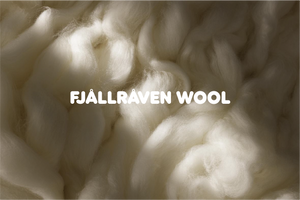 | | |
| --- | --- |
| | Warm when damp |
| | Wicks away moisture |
| | Odour and dirt resistant |
We love wool here at Fjällräven. It's arguably one of nature's most functional materials. And you're most likely aware of its ability to keep you warm by trapping air between its fibres. But did you know that, strictly speaking, wool isn't an insulator? It's a heat regulator. This is because it can help you keep your cool as well as keep you warm and cosy. Wool wicks away moisture from your body. And when it does so, it takes odours with it. So even though you may spend all day trekking and working up a sweat, your wool clothing will hardly smell at all. 

Finally, because of the structure of the fibres, wool keeps you warm even when it's damp. And depending on the size of the fibres, wool clothing can be really thin, not to mention durable and comfortable.We use lots of different types of wool, including spill or surplus wool from our suppliers in Italy and wool sourced from sheep in Sweden. This is all to reduce our environmental impact.
How does wool work?
Wool's ability to regulate your body temperature boils down to its capacity to hold and release water. Wool can absorb around a third of its own weight in water before it feels damp. The wool fibres can, when heat is being released, wick away moisture helping to keep you cool (and odour free). The wool fibres also trap warmth, as the heat from the body decreases.