2023 - Fjällräven Discovery Mt. Apo Trek via Sta cruz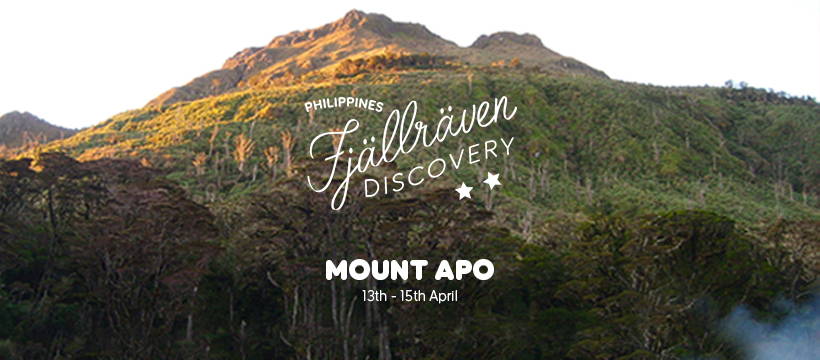 Date
13th to 15th April 2023
Trips highlight:
Highest Mountain in Philippines, volcano

Elevation:
+-2954m
Trip Duration:
3 days 2 nights
Cost:
Php 5,000.00

Requirements:
Covid-19 Vaccination Card
Mt Apo, the master and grand father of all the Philippine Mountains, at 2954 meters above sea level (9,692 ft), is an active volcano in the southern part of the central highlands. It is the highest peak in the Philippines. It possesses a formidable array of landscapes, from craggy rockscapes to virgin forests; from mossy swamps to volcanic structures. Indeed, Mt. Apo possesses the widest spectrum of environments, and provides an experience for mountaineers that lives up to their expectations from the country's highest.
Itinerary
Day 0 - 12th April 2023
1400 - Check in at Hostel 153, Assembly, final preparation and shopping
1900 - Dinner, socials
2000 - Lights out
Day 1 - 13th April 2023
0430 - Wake up call
0500 - Assembly
0530 - Depart Hotel
0900 - ETA Kapatagan, buy packed lunch, breakfast.
0930 - Depart for Baruring
1000 - ETA Baruring (1,141 MASL), Start trekking.
1030 - ETA Colan
1130 - ETA Tumpis, Lunch along the trail
1545 - ETA Tinikaran Camp 1, Set camp, Dinner, socials
2000 - Lights out
Day 2 - 14th April 2023
0300 - Wake up call, pray for a good weather, breakfast, break camp
0400 - Start trek to summit via Boulders!
1100 - ETA Summit 2964 MASL, Lunch
1300 - Descend to Lake Venado
1600 - ETA Lake Venado, set camp and relax., Dinner, socials
2000 - Lights out
Day 3 - 15th April 2023
0500 - Wake up call, breakfast, break camp
0730 - Descend to Baruring Trailhead via Century Old Tree and Garoc Trail
1200 - ETA Century Old Tree, lunch.
1300 - Resume trekking.
1600 - ETA Garoc
1700 - ETA Colan
1800 - ETA Baruring
1900 - ETA Kapatagan. Congratulations! End of trek. Depart for Davao City Dinner along the way
2200 - ETA Davao City, back to hotel
Day 4 - 16th April 2023
1100 - Check out, catch flights
Package Includes:
Hotel accommodation for two nights, sharing with the group. (Private rooms can be arranged with additional cost)

Guides and guide meals

Transportation from hotel to jump off and back

Climb permits, environmental fees, climb certificate and organiser fees

Climb certificate
Package Excludes:
All meals

Camping and hiking gears
Optional add-ons:
Porter fees are optional for Php1500 plus porter meals

Airline booking, plus booking fee Php200

Airport pick up and drop - free if booked airline ticket with us on the same time of arrival and departure at the airport. Van for 9 pax sharing.
Requirements:
Fit to climb medical certificate

Climbing experience

Covid-19 Vaccination Card
Things to bring:
Camping gears: tent, cook set, reusable cooking utensils.

Hiking clothes, layers, wind breaker, jacket.

Cash and small bills - last ATM will be on day 1 in Davao City
Reservations:
To reserve a slot, kindly present the requirements as stated above with the deposit of 50% Climb fee, Php2500. Please send requirements and deposit receipt to: info.motherearthadventures@gmail.com

For airfare assistance, Php4000 prepaid prior to booking. The difference will be refunded upon finalising the booking.
Bank details:
John Edgar Isip II
PSBANK MALABON
117361014395
Gcash:
09173149278
Elinor Abogahttps://gem-3910432.netdo