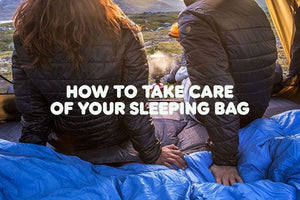 How to Take Care of Your Sleeping Bag
Whether down or synthetic, sleeping bags are a big investment. You're investing in more comfortable nights in nature now and in years to come, so it's well worth looking after your sleeping bag.
WASHING & DRYING YOUR SLEEPING BAG
Washing and drying instructions can differ depending on whether your sleeping bag is filled with down, or synthetic insulation such as G-Loft Supreme or Supreme Microloft. So you should always start by checking the care label for specific information.
Unless stated otherwise, you can wash our sleeping bags on a slow-spin cycle, with mild detergent and at 40°C. But don't use any kind of bleach or fabric softener.
To save energy and resources, and to extend the lifetime of your sleeping bag, we recommend only washing when you really need to. Often a good airing outside or in a well-ventilated room is good enough. Or, if you do notice a dirty mark, we recommend hand washing the area with mild detergent, a sponge and warm water.
You can save time by having your sleeping bag professionally cleaned, but you should not use dry cleaning methods for down sleeping bags. The chemical process damages the down.
It's OK to tumble dry a sleeping bag; in fact it can help restore the product's fluffy airiness. But use a low heat and check the garment regularly to avoid overheating.
Note that it will take two-three hours to dry with a tumble dryer – with down taking longer than synthetic insulation.  
STORING YOUR SLEEPING BAG
Once you arrive back from an adventure in nature, take your sleeping bag out of its pack bag, give it a good shake and air it out for 24 hours or so.
Don't store your sleeping bag in its pack bag. This will eventually affect the quality of the filling, which could leave you feeling cold and grumpy on future expeditions. Instead hang the bag in your wardrobe or another well-ventilated cupboard. 
Before you use it next time, remember to give it a shake and a proper airing – outside if possible. And after every night of use, hang your sleeping bag over a tree branch or from a camp washing line to ensure it's ventilated. Damp – from sweat or condensation – is a great way to ruin a sleeping bag.
You can read our general care advice here. And if you want general camping and outdoor tips, visit our blog: The Foxtrail.