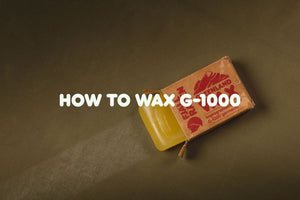 G-1000 is a tough material with a tight weave that makes it naturally wind resistant. By adding Greenland Wax, which is made from a mixture of beeswax and paraffin, you can increase the wind and water resistance and durability.  
Most of our G-1000 garments come pre-waxed, but after a few washes and with regular use the wax will need a touch-up. Areas more exposed to the elements such as knees, rear and lower parts of trousers, can benefit with extra wax.

Note that Greenland Wax offers water-resistance, not waterproofness. Find out the difference here.
WAXING ON THE GO
You can also use the flame of a camp stove to melt Greenland Wax. If you choose to wax on the go, hold the garment roughly 20-30cm above a steady flame. Don't start too close! Begin further away and slowly move the garment closer to the flame until you see the wax starting to melt. Be careful not to burn the fabric or yourself. Keyfeatures out the fabric over the flame and move it back and forth until the wax has melted.
What happens when waxing products with down or synthetic padding or Hydratic lining? 
So you don't affect the filling or sensitive synthetic lining used to stop down escaping through fabric, we recommend using a hairdryer to warm the wax. For down, you can also use a tumble dryer on a low heat.
REACTIVATING GREENLAND WAX
Sometimes you just want to reactivate the Greenland Wax already on the garment, like if that winter jacket has been hanging in storage all summer. Or if you've washed the jacket once, but it feels as though the wax has washed out. Iron (or use a hairdryer) the garment on a low heat. The heat will draw the wax out of the fabric and you should be able to feel the difference straight away.
REMOVING GREENLAND WAX
Sometimes wind and water resistance isn't your number one priority. Sometimes you want your garments to allow for airflow, like when it's warm and sunny. In this case, it's a good idea to remove Greenland Wax. All you have to do is wash your garment at 40°C two or three times.
Backpacks
Keep your backpack happy, hardwearing and water resistant through all your adventures.
WHAT NOT TO WAX
Many of our products aren't made entirely from G-1000. A good deal are made from a combination of materials, such as our Keb Jacket and Trousers that are made with G-1000 and synthetic stretch fabric. It is only G-1000 that can be waxed. So take extra care when waxing these types of garments to avoid getting wax on non-G-1000 materials.  
WASHING G-1000 GARMENTS
Being made from cotton and polyester, G-1000 can be machine-washed at 40°C (although washing at 30°C is kinder to the environment). However, because the Greenland Wax washes out after two or three cycles, we suggest only washing your garment when it really needs it.
If the item is made from a combination of fabrics, you should pay close attention to the washing care label inside the garment – especially those with down or synthetic padding.