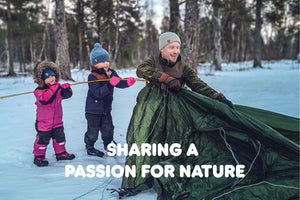 Make the most of winter as a family
Fjällräven friend Daniel Wilhelmsson and his family share a passion for nature. He took his son on his first winter camping trip at just one-year old. Find out they make the most of the season together.
Remember winter as a child? How you felt seeing the first snowfall of the season? And the joy of being outside for hours on end? 
Wintertime is kids' time, but there are plenty of adults who have also retained their enthusiasm for the season. Like Fjällräven friend Daniel Wilhelmsson and his partner Sandra. They are passionate about nature in any season, but winter offers conditions that are unique and especially enjoyable. 
"When I think about what I like most about winter the word 'contrast' comes to mind," says Daniel, "I like the freshness. The smell of snow and how quiet it gets once it's covering the landscape. Being outside in that environment, only to then sit around an open fire or jump in the sauna, is amazing. I thrive on contrast in life. And nature, including us humans, need the contrasts that winter offers in order to slow down a bit. The contrast helps us to recover and enjoy life when it warms up again."
In another Foxtrail article, Daniel shares practical recommendations about camping with the family. Now, he has tips for making the most of winter with the kids.
"In winter there is an abundance of things to do, for both children and adults. Things that require various amount of equipment and knowledge. From lots to almost none."
His first piece of advice: "Find something that the children really enjoy doing and build your activities around that." Already avid campers, his children enjoy winter camping. They also enjoy zooming down the hills around their mountainside home on snowracers and skis. Regardless of whether they are on the trail, or at home, there is always an open fire that acts as their "basecamp". Providing a place for warmth, comfort and cooking. 
Cold weather isn't a problem for kids if you have the right gear and mindset.
This year, the kids tried ice-skating on the lake for the first time. "There is only a small window of opportunity to do this. From the moment the ice settles and is thick enough for skating, to the moment snow covers the lake. But they enjoyed it. My son in particular." Daniel would also like his children to learn more about the tracks and other traces that animals leave behind in the snow. "It would give us a more multidimensional exiting experience."
Daniel realises his family's privilege when it comes to making the most of winter outside, but still encourages families who live in the city, or places where snow is scarce, to enjoy the season. He suggests spending time in the park or going to a nature reserve. If you can find a spot that allows for a small fire, he recommends taking advantage of the opportunity. "It is a real mood booster."
"It is a real mood booster."
DANIEL WILHELMSSON
Fjällräven Friend
Getting the kids outside during winter comes with some challenges, and Daniel explains that cold temperatures, snow and wind should be treated with respect. As such, preparation and understanding your surroundings are the key to avoiding freezing: "Cold weather isn't a problem for kids if you have the right gear and mindset."
Layering is critical. Daniel and Sandra dress the kids (and themselves) in anywhere from two to five layers of clothing. Ideally in garments that will allow them to move and explore, while keeping them warm. They also invest in quality insulated footwear, preferably with a separate inner shoe, and they also layer their gloves. All of these layers can be added to, or removed, to best suit the weather conditions and activity level.
With children this is easier said than done: "Another challenge is one many parents relate to: getting everyone dressed in the correct order. Without the parents perishing in their own sweat."
To be clear, Daniel did not provide a solution for this. There are just some challenges that even the most seasoned outdoor expert cannot solve!
Camping in winter with children also takes more advance preparation and planning than in other seasons. "We always camp close to our car and below the treeline. We always know our exit strategy if the conditions become too extreme. We always bring extra clothes and supplies." Must-haves for Daniel include a headlamp since the days are shorter; goggles to ensure clear vision in snowy weather; and two thermoses. A wind sack is also a non-negotiable and the family uses it during breaks as an added layer of comfort and warmth.
A good night's sleep is also important for little ones and is more probable with the right gear. Quality sleeping mats create the right foundation as they will protect campers from the cold ground. Daniel layers his mats – one foam and one inflatable, or two foam – to ensure maximum comfort. In terms of sleeping bags, Daniel and the family prefer the Fjällräven Polar line. Filled with insulating down, they insert a bottle of hot water to them for added warmth.
The family also prepares "night kits", which are packed in drybags alongside their sleeping bags. In it, everyone has a set of wool undergarments, a warm beanie and liner gloves. Everyone wears down boots at camp: "Putting on a pair over dry socks is heavenly after a day in heavy boots or skis."
Whether you are planning the first winter camp with the family, or want to ensure your kids are prepared for more hours outdoors, Daniel's tips ensure the season will be fun-filled and safe. The perfect conditions for making outdoor memories. 
"I can think of many nights when we are just playing in the snow under the stars, with the moon providing the light. In winter, it's the simple things that make memorable moments and fill you with emotion."