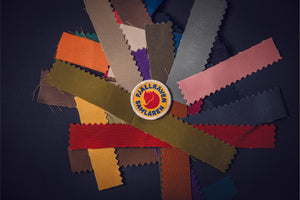 Our latest collection is designed for obsolescence
New adventures for leftover fabrics
"Samlaren" means "Gatherer" in Swedish and is the name we"ve given our limited collection of clothes and equipment created with leftover fabrics from our mills and factories. A collection with new colour combinations, classic designs and the same high levels of functionality and reliability you"ve come to expect from all Fjällräven products.
Leftover fabric, or spill, is a pretty standard result of garment and soft-goods manufacturing. The development team explain how the new Samlaren collection is challenging that. 
Leftover fabric, otherwise known as spill, is a pretty standard result of garment and soft-goods manufacturing. Even for Fjällräven, where the issues of sustainability and reducing waste in production are always top of mind. It is our long-term vision to be the most sustainable outdoor brand after all.
With this in mind, designers created a new collection that tackles the challenge of fabric waste head-on: Samlaren. Named after the Swedish word for "the gatherer", Samlaren is a limited-edition collection made from spill fabric that was being stored for future use. This spill was "gathered" to make unique versions of the Greenland Jacket, Kånken Backpack and caps. 
While smaller amounts of spill fabrics are used to make outlet store garments and accessories, Samlaren uses the spare materials that we have in greater quantities. If you know anything about Fjällräven, you know that not using all the fabric we order does not sit well with us. And throwing it away? Virtually unthinkable. As such, the use of leftover materials is not a new practice. It is part of our heritage. Fjällräven Head of Sustainability Christiane Dolva Törnberg explains:
"We've always had a focus on using resources in a conscious and sustainable way. Actually, the first Greenland Jacket that was produced was developed with a piece of leftover fabric that our founder Åke Nordin had in his garage, and it wasn't suitable. It was too heavy for tents. But it turned out perfect for a jacket and that thought of reusing and using resources cautiously has followed us ever since".
Before exploring the details of the Samlaren collection, we should answer the bigger question: why does spill happen at all? It usually a matter of standardised order sizes and colour nuance. Sometimes we have to place an order for more fabric than we need. We might need 200 metres of fabric for a season, but the minimum order is 1,000 metres. We know that we will continue production the following season, so this usually works out well. But sometimes we get large amounts of fabric that is not used the following season if a colour doesn't sell well. Or something happens with the colour so it is a different nuance from the previous year.
Since organic fabrics are especially susceptible to colour nuance, this is a challenge that Fjällräven is uniquely knowledgeable about. In fact, shifting colours are not a defect, but a natural occurrence that results from factors like water pH levels and humidity at the time of dying.
The Samlaren designers have flipped the script on colour nuance. The entire collection is made of different colours of G-1000 spill, which are combined in complimentary and contrasting ways to give each product in the collection a unique look. All while maintaining the level of functionality and durability expected of Fjällräven products. Here is what Global Creative Director Henrik Andersson has to say about the process:  "Samlaren is constructed in the same way and to the same standard as the normal collection. The first products in the first launch are classic constructions based on typical Fjällräven products that we've had for a long time but put together in a quite playful manner".
According to Henrik, putting the collection together challenged their usual approach to design: "We had to go into the design process a little bit from another angle than normally. We needed to look at what we had available and then make the most interesting and functional products out of that". 
Samlaren also demonstrates an unwavering commitment to designing for performance and quality, and is a proof-of-concept about the future of outdoor equipment manufacturing. Christiane explains that the final goal is to become so process efficient that no leftover material is created at all in production:
"Some of the most resource-intense things we can do is to produce fabrics. It requires a lot of water, energy, chemicals. It creates emissions along the way. By creating products from already existing materials, as we do with Samlaren, we can really care for those resources and give them the attention that they deserve." 
That gives us a strange way to look at Samlaren as a future collection. In essence, it is being designed for obsolescence. As Christiane says, ". . . the whole concept lives and dies with our ability to improve and become better and better in our product development".
If your interest in garments made using excess materials is piqued, you will be happy to know that Samlaren is not Fjällräven's first foray into the area. Like Re-Wool, which was developed to use up surplus wool from the yarn spinning process, effectively minimising waste and decreasing the need for virgin wool.
Samlaren Collection
Limited Leftovers = Limited Collection
Our regular production processes do not result in endless amounts of leftover materials. This is a good thing. And the reason Samlaren is a limited collection. In the future, we aim to become so efficient that there are no leftover materials at all. Until then, Samlaren can put those materials to good use.
Fjällräven Heritage
In 1964, our founder, Åke Nordin, stowed away a roll of fabric that didn't make the cut during the development of his groundbreaking Thermo Tent. A few years later, the very same roll of fabric was used to make the first legendary Greenland Jacket. Not letting resources go to waste has been our way of working ever since.
Your Turn
Your Samlaren product is developed and designed to last for many years. Use it often and long, fill it with great outdoor memories and future adventures. That"s when those leftover materials truly come to good use. And that's sustainability at its best. See you out there!