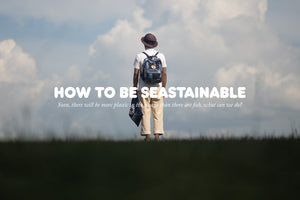 How to be Seastainable? Soon, there will be more plastic in the oceans than there are fish, what can we do?
Featuring: @seastainable.co
In 2019, there was a study published by NationalGeographic, which highlighted an estimate of 5.25 trillion pieces of plastic debris in the ocean. At the same time, although these numbers may seem humongous, 269,000 tons of plastic debris float on the surface, with an estimated volume of four billion plastic microfibers per square kilometer litter lying within the deep sea.
Tragically, a study by World Economic Forum estimates indicate that by the year 2050, there will be more plastic in the oceans than there are fish. Unless we seriously change our habits and the way we handle our waste, we're headed down the dire path of no return. 
Fjällräven wishes to bring all of our user's attention to World Ocean Day & also to the environmental issues in our oceans. Which cover about 71% of the earth's surface & produce over half of the oxygen on our planet and are home to over one million species of animals and even more plants. Since 80% of ocean plastics come from land, our immediate surroundings are a good place to start. But how?
What can we do as an individual in our daily lives to contribute to this?
We have interviewed Samantha, founder of  Seastainable.co on our IG live, to share with us what we can do for the oceans.
Q: Introduce yourself to the fans of Fjällräven.
A: Hi my name is Sam, the founder of Seastainable! In case you didn't know, Seastainable is a social enterprise that is dedicated to marine conservation in South East Asia. We've been around since 2017, and working with over 40 different projects on various marine conservation related projects.  Recently we also started the East Coast Beach Plan where we have been rallying communities to keep our beaches clean. Since July 2020, we've collected over 12,000 kg of trash from East Coast Park, and rallied our community to organize over 300 cleanups.  Join us if you can!
Q: What is sustainability to you?
Sam: To me it's a concept of doing all things at a pace that is renewable, and I think it's really important to remember this because often people have a misconception about sustainability that it's all about the environment! For example, when we talk about beach cleaning, we know its great for the environment but we do it at a sustainable pace - meaning not having to force ourselves to go down to clean the beach everyday, but at intervals and at a pace that suits us! Thats how we keep our movement going  
Q: How important is sustainable living for individuals towards environmental conservation or marine conservation in specific. 
Sam: Sustainable living is the pace we need to go at moving forward. Right now consumerism tends to tell us we need more and more things, and that results in overconsumption and destruction of nature to achieve these wants.  It's really important to assess needs, vs wants and cultivate a habit of appreciating the existing things that we have.  
Q: What could be the first step for those that wish to try to live a more sustainable living starting from now?  
Sam: Take action with simple things around you, don't go cold turkey - maybe if you're going to dabao lunch, bring your own container or if you order in food delivery hit the button where you can opt out for cutlery! Slow but baby steps. It may seem difficult at first, but with time it'll definitely get easier and you can commit to trying other sustainable alternatives that may or may not work for you!
Q: What have Seastainable or you yourself done to support marine conservation?
 Seastainable was born to support marine conservation, across the 4 years we have supported over 40 projects in South East Asia - mainly across the themes of environmental education, waste management, whilst collaborating with our ASEAN Partners (for example, Save Philippines Seas)!
Another fun project that we do is carbon offsetting with our partner Carbon Ethics, in Indonesia. We not only offset our carbon footprint through mangrove and coral replanting, but we also support the livelihoods of coastal communities in Indonesia. 
Q: Other than reducing wastage created from our daily life, is there more than we can do? 
Sam: For me, I like doing litter picking - be it cleaning the beach or the streets around us. It not only helps the environment but also reduces the workload for our cleaners who work tirelessly under the sun everyday to  keep our beaches clean. 
Not only litter picking, there's tons of other stuff you can do! I try to BYOB (Bring Your Own Bottle) whenever I can, as well as reduce my carbon footprint by cycling around my neighbourhood, and meat intake. There's lots of things that can be done. 
However, if you want to do a cleanup, even with restrictions, we encourage our community to go in twos or even alone (like me lah i always go alone) and how i actually track my impact is through the Stridy app! And this WED it's quite cool because we are doing a challenge where you can join the Kanken team and stand a chance to win a prize. Check out the special giveaway on here! (link to https://www.instagram.com/p/CP2DJFYnTV8/)
Fjällräven is committed to eliminating single-use plastics in its operations and has signed the Plastic Impact Alliance. In parallel to these efforts, the brand continues to engage in the issue through other initiatives like Kånken Art. In 2021, Kånken Art will support two organisations via the Arctic Fox Initiative: The Leave No Trace Center for Outdoor Ethics (Leave No Trace) and The 2 Minute Foundation. Both focus on educating people about reducing and properly handling plastic waste, and also clean up what is already out there.
The Kånken Art '21 is a small step in the right direction. Its fabric consists of Fjällräven's G-1000 HeavyDuty Eco, which is made from recycled polyester and organic cotton. Furthermore, all Kånken Art products contribute to the Arctic Fox Initiative. One percent of every purchase goes directly to the Arctic Fox Initiative's support for organisations working to keep plastics out of the oceans.
Check out here for the collection (button link to https://fjallravensea.com/collections/fjallraven-kanken-art-2021)
Check out here to know more about ArcticFox Initiative supports to The Leave No Trace Center for Outdoor Ethics (Leave No Trace) and The 2 Minute Foundation (button link to Press Release) https://fjallravensea.com/blogs/news/kanken-art-edition-2021-art-with-a-mission-to-keep-plastics-out-of-the-oceans-piece-by-piece
Every little thing makes a mickle. This applies to little unnoticed trash that we have created in our daily life but the same goes to the effort that we can make to protect our oceans & environment. Let's keep plastic trash out of the ocean together, one piece of plastic at a time.